Updated:  May 21, 2020
Eppley Airfield Update
Eppley Airfield remains open for business as we continue to monitor the situation with the airlines and governmental agencies in this changing environment to maintain essential travel service to our customers and the community.
Our focus will remain on our customers, maintaining our facilities and equipping Omaha Airport Authority staff as the situation evolves.
NOTE: Requirements limiting gatherings of 10 or more do not apply to Eppley Airfield per the Nebraska Department of Health and Human Services (DHHS).
Below are some of proactive measures the Omaha Airport Authority is taking concerning the COVID-19 virus to maintain airport operations:
Increasing the frequency of cleaning common touchpoints throughout the terminal facilities in accordance with recommendations from the CDC and the Douglas County Health Department (DCHD).
Adding additional hand sanitizing stations within the terminal facilities.
Following appropriate personal protective equipment procedures for first responders.
Following hygiene and health guidance from the CDC and DCHD.
Remaining in direct contact with DCHD.
Actively communicating with the FAA, TSA, and airlines serving Eppley Airfield.
The Omaha Airport Authority will continue to update this page with pertinent information relating to this matter.
The safety of our customers and employees is our top priority.
Please submit any inquiries to [email protected].
Information for Travelers
Airline Information
Due to COVID-19, flight schedules are dynamic and flights/travel policies continue to evolve with short notice. We encourage travelers to stay connected with your airline for the latest on your flight details:
Transportation Security Administration (TSA) Information
Use the following links to check Transportation Security Administration (TSA) Policies:
Concessions Information
Food, beverage, & retail concessions are open for customers, although the locations and hours of operations are being adjusted to address changes in passenger activity.  Food service is available pre & post security.  Click here for an updated list of which concessions are open and their hours of operation.
Additional Information
Below are links for additional information on COVID-19:
Important ParkOMA Changes
ParkOMA is making a few temporary changes to Eppley Airfield parking options to enhance customer convenience and better serve you during this time.
ParkOMA Temporary Pricing Changes
North and South Garage – $12/day
North and South Garage Rooftop – $6/day
North Economy – $6/day
South Canopy and South Economy – Closed
If you're returning from a trip and your car is parked in South Canopy or South Economy, shuttles will still take you to your vehicle.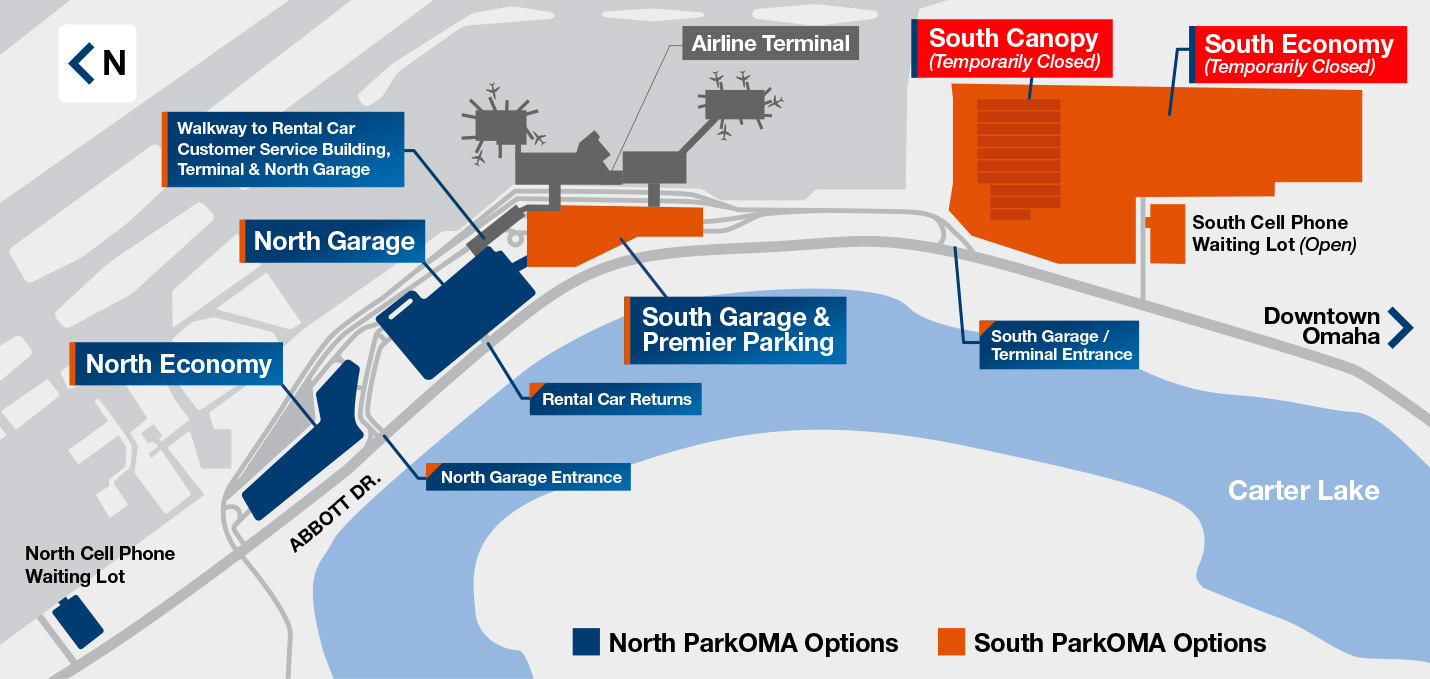 See the pages below for more information:
If you have any questions, please contact the ParkOMA office at 402-346-2466.
General Passenger Precautions
Hand sanitizer stations are located throughout the terminal facilities for your convenience.
We encourage all travelers and visitors to Eppley Airfield to take the following personal precautions listed below by the CDC: