Updated:  September 14, 2021
Eppley Airfield Update
We're proud that UNMC's Global Center for Health Security has provided consultation for TravelSafeOMA during the Covid-19 pandemic.
We've implemented their recommendations and continue to consult with them as the situation with the pandemic changes.
Our mission is to provide premier customer service and airline facilities through operational excellence. This remains especially true now. The Omaha Airport Authority is committed to making traveling as safe as possible during this time.
---
COVID-19 testing is not available at Eppley Airfield.  A list of local test sites can be found here.  Currently, the State/County/City do not require COVID-19 testing/documentation for travel out of Eppley Airfield, nor is there a quarantine requirement for travel into the local area.  We recommend that travelers check for requirements that may exist at their final destination or with their airline.  
We have taken a number of extra measures to provide for a safe, healthy airport environment as part of our TravelSafeOMA program.
Below are some of the proactive measures the Omaha Airport Authority is taking concerning the COVID-19 virus:
The Omaha Airport Authority will continue to update this page with pertinent information relating to this matter.
The safety of our customers and employees is our top priority.
Please submit any inquiries to [email protected].
---
Information for Travelers
Airline Information
Due to COVID-19, flight schedules are dynamic and flights/travel policies continue to evolve with short notice. We encourage travelers to stay connected with your airline for the latest on your flight details:
Transportation Security Administration (TSA) Information
Use the following links to check Transportation Security Administration (TSA) Policies:
Concessions Information
Food, beverage, & retail concessions are open for customers, although the locations and hours of operations are being adjusted to address changes in passenger activity.  Foodservice is available pre & post-security.  Click here for an updated list of which concessions are open and their hours of operation.
Additional Information
Below are links for additional information on COVID-19:
Important ParkOMA Changes
ParkOMA is making a few temporary changes to Eppley Airfield parking options to enhance customer convenience and better serve you during this time.
CONSTRUCTION UPDATE: The South Garage Restoration is now underway, which includes South Rooftop, Quick-Park, and Premier Parking. Please follow the entrance signage carefully for your parking preference. The South Garage will remain open during construction; however, parking in the North Garage via Abbott Drive is highly encouraged. Thank you for your patience as we work to improve your parking experience.
ParkOMA Temporary Pricing Changes
North and South Garage – $14/day
Premier Parking – $20/day 
Hourly Quick Park – $1.50 each 20 minutes, $14/day
North and South Garage Rooftop – $8/day
North Economy – $6/day
South Economy – $6/day
If you're returning from a trip and your car is parked in South Canopy or South Economy, shuttles will still take you to your vehicle.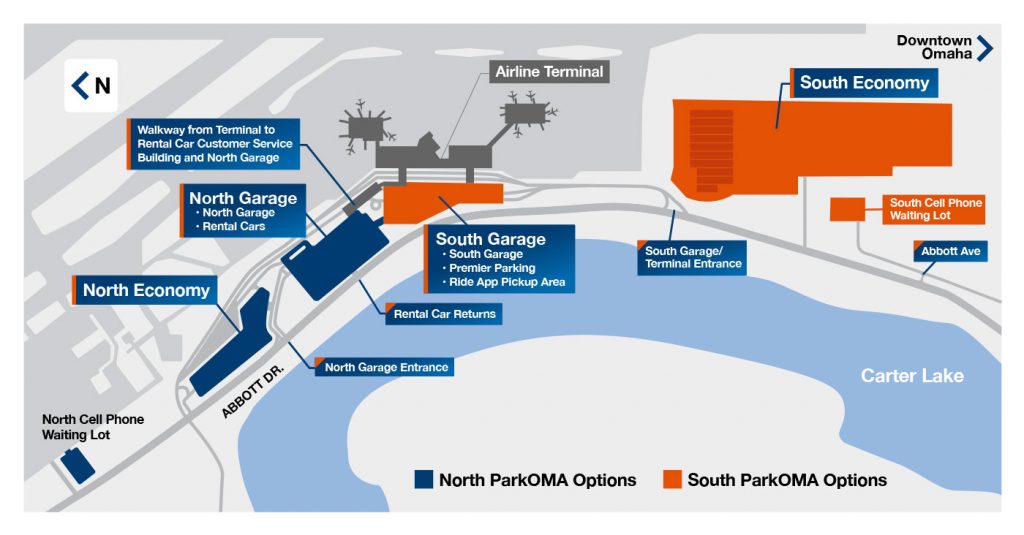 See the pages below for more information:
If you have any questions, please contact the ParkOMA office at 402-346-2466.
General Passenger Precautions
Hand sanitizer stations are located throughout the terminal facilities for your convenience.
We encourage all travelers and visitors to Eppley Airfield to take the following personal precautions listed below by the CDC: