The closest parking for Eppley Airfield.
NEW!

Reserve Your Parking and Save!
Save on posted drive-up rates for select ParkOMA options when you reserve parking at least 12 hours in advance.
Your Guide to Parking When You Reserve Online
Plan your trip and make your reservation from the available ParkOMA options.
Drive to Your Parking Location
Use the ParkOMA map to navigate to your parking location.
At the entry gate, scan the QR code on your confirmation email or use your Apple Wallet.
Park & Head to the Terminal
Find a parking space and walk to the Terminal. Or from South Economy and North Economy, ride the ParkOMA shuttle to the Terminal.
Return to Your Car & Exit
After your trip, return to your vehicle, and drive to the exit plaza. To leave, use the same QR code you used when you entered. Thank you for parking with ParkOMA.
Parking Options at Eppley Airfield
There are 7 ParkOMA options to choose from and priced for every budget.
Every dollar spent with ParkOMA is reinvested in airport infrastructure to further enhance service at Eppley Airfield.

Daily Rate: $20.00 / day maximum
Hourly Rates: $1.50 each 20 minutes or portion thereof

Daily Rate: $6.00 / day flat rate
Hourly Rates: none

Daily Rate: $20.00 / day maximum
Hourly Rates: $1.50 each 20 minutes or portion thereof

Benefits of Using ParkOMA

The closest parking options available to the terminal

With over 10,000 spaces, ParkOMA has an option for every budget and need

Parking options to help shield your car from the elements

Dedicated Airport Police presence and security cameras throughout ParkOMA

Every dollar spent with ParkOMA goes to support Eppley Airfield improvements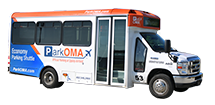 ParkOMA Economy Shuttles
Learn more about ParkOMA's economy shuttles, realtime track your shuttle, and submit shuttle experience feedback.

Evaluate Options & Discounts
The ParkOMA Rate Estimator gives you the ability to compare and evaluate options. Save the most by reserving parking online, or sign up to receive drive up discounts.
ParkOMA FAQs
Have a question about online reservations, the shuttle, or other parking detail?
Need Payment or Car Help?
Call the ParkOMA office at 402-346-2466 for parking questions, shuttle services, or a complimentary jump start or tire inflation.
Thank you for parking with ParkOMA!
ParkOMA is exclusively owned and operated by the Omaha Airport Authority.